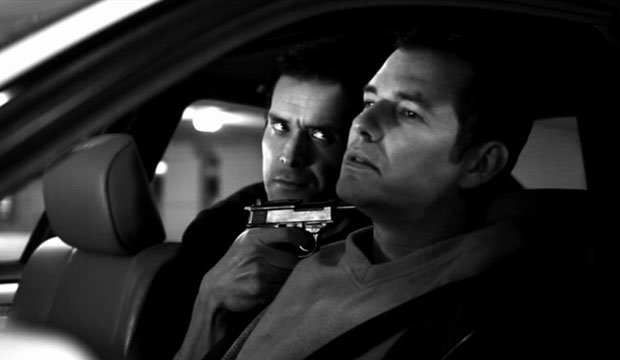 Synopsis
Through a highly popular social website, recently (and reluctantly) separated Robert Cruz (Mario Guzman) is invited to his 20 year High School reunion. Hoping to save his struggling marriage with Julie (Tiffany Shepis), an encounter with a recently BLOCKED internet stalker becomes personal as the stalker (Jose Rosete) threatens to kill the love of Robert's life. Through the help of Det. Ortiz (Lou Pimber), Robert now races against time to protect his lover from an obsessive lunatic and salvage his strained relationship!

Read More about "Blocked" at:
www.coveringmedia.com
www.jamesarnett.com


---
Involvement
It was December of 2010 when I received a phone call from my buddy James Arnett. We hadn't worked together in over 2 years but always kept in touch every now and then. He informed me of a new movie he had written called: "Blocked." He was directing it in Phoenix and wanted another familiar face onboard with the project. I was hesitant at first, but my graphic designer's job at that time wasn't giving me the amount of work I'd had before. I accepted the invitation as Assistant Director and arrived to the set a few days later to be greeted by James at the front door.

We caught up on old times, and he briefed me on the new project. It sounded like a winner. I was accustomed to his style of filmmaking, and knew what to expect. The Phoenix film community we were working with? Not so much. It's relatively unheard of to film a movie without shot-lists, storyboarding and to expect to wrap a full-feature production in under 30 days. I'm proud to say, we didn't wrap in 30 days… we wrapped in 17.

Over time, the circumstances of the film allowed me to become its Graphic Designer, full Director for a day, 2nd Editor, and eventually full Producer. Post Production was finished around late March. The trailer was conceived shortly after the film was completed and, thanks to the musical genius of Robert A. Wolf, received many positive reviews.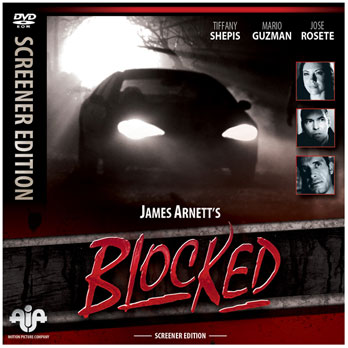 (above) Screener DVD Cover for "Blocked"
---
Movie Premiere
The buzz surrounding "Blocked" generated a lot of curiosity and disbelief. How can you create a full feature-length movie from conception to finish in 4 months? How can it be done with a two-man post production crew? A level of skepticism would soon soil the road we were set to travel.

I rarely "toot my own horn" so to speak, but this project was a true accomplishment. It seemed as if anything or anyone were working against us at ANY time. This film was never meant to be completed. To have been part of such an amazing film, and to have helped in pulling it off, AGAINST ALL ODDS, is nothing short of remarkable. The true talents of many great individuals were given several proper platforms to shine.

The first social platform was the 2012 Phoenix Comicon... a great group of people who really threw together a wonderful function. The film was highly anticipated by the filming community who had seen the trailer, and was wondering if the film was going to live up to its hype.


Several hotel ballrooms hosted a series of movie screenings, each consisting of a number of short films followed by a feature, leading up to the main films later in the evening. The most hyped Comicon Film that year, had a start time of 10:25pm and a packed house. "Blocked" had a start time of 10:45pm, and an audience not nearly as impressive.

Passer-bys throughout the film's viewing would peek their heads inside the room, marvel at the style, but leave feeling they had missed too much... sensing it was the type of film that you had to see from the beginning. The dismal showing of "Blocked" this night, although comical in retrospect, would be another blemish on the success of this film "never-meant-to-be."

"Blocked" would not win any awards on judging night. However, our supporting actress, Kimber Leigh, DID win for her performance in the film "The 49th Line," which made us all extremely proud that she was getting recognition (considering her performance in "Blocked" being so outstanding).

We decided to check the venue for our film premiere, which was a week away, and drove through the streets of Tempe looking for the theater. We traveled on foot to our destination and discovered something that made EVERY trace of disappointment leave our bodies. The theater's marquee (e) reiterated all of the hard work we had invested in this project and that we were far from done. Our spirits were sky high again, and we all slept better that night than we had in a long time. I still thank God for Vicki Trinneer's help in bringing "Blocked" to its first silver screen.

The big payoff came when the film was finally screened for its Phoenix premiere on
June 8th, 2012.

The movie was well received and set a new standard for Arizona Filmmaking. Some critics, even looking to humble the "Tucson Newcomers" with poor reviews, were vilified by true film-lovers who highly recommended "Blocked" as a "must see" film to their friends and family!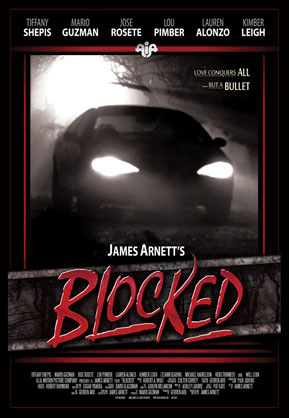 (a) "Blocked" Poster
---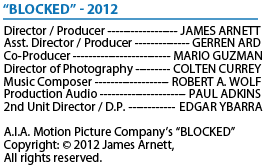 ---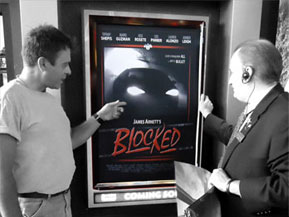 (b) Director checking poster placement
---
"Blocked" is regarded as one
of Arizona's best-looking independently-made feature films. The cinematography showcased an amazing use
of shadows and highlights,
all presented in a sultry
Black and White, redefining
new trends for the modern
Film Noir.
---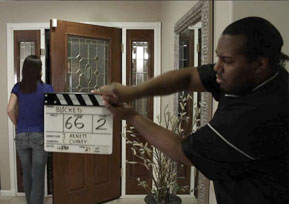 (c) Asst. Director Marking Scene
---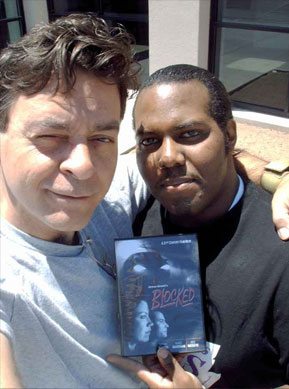 (d) Mailing "Blocked" DVD to Cannes
---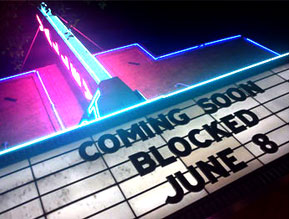 (e) Theatre Marquee
---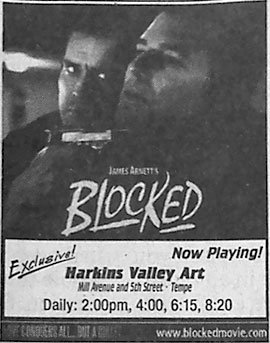 (f) Newspaper Clip (Arizona Republic)